Renewal of Fairtrade Town status
August 17th
Devizes Fairtrade Group has successfully renewed the Fairtrade Town status of Devizes. It was first awarded in 2006 and has to be renewed every two years. The Fairtrade Group will continue to work hard to keep reminding people of the importance of buying Fairtrade produce especially at this time when Covid 19 has interfered with the buying and selling of primary products such as chocolate, coffee, tea and sugar as well as craft work. The impact of the virus in the countries that produce these products is very severe as many people do not have water available to wash their hands frequently and the health services are often inadequate to cope with the pandemic.
Ethical Shopping
March 4th
The Devizes Fairtrade Group is joining forces with the Sustainable Devizes Group to help you find out about the impact of our shopping habits on the environment and the livelihoods of the producers and particularly women cocoa farmers in West Africa at an event called Ethical Shopping in the Town Hall on Wednesday 4th March at 7.30 pm. There will be Fairtrade refreshments.and stalls. Entry is free – donations welcome.
Fairtrade Fortnight 2020
February 23rd - March 8th
Fairtrade Fortnight this year is again focusing on cocoa farmers. The theme is 'She Deserves a Living Income'.
It's a scandal that behind the sweet delight of chocolate lies the bitter taste of exploitation. The UK Chocolate industry is worth at least £4 billion a year and yet the average cocoa farmer in Cote d'Ivoir or Ghana, where 60% of the cocoa is grown, earns less than 75p a day. If this wasn't enough to cope with, the climate crisis is wreaking havoc on global food production. Farmers are battling less predictable seasons, more plant diseases and more extreme weather leading to lack of food. They are working longer hours for lower prices. For women it is even more unfair. In Cote d'Ivoir the women carry out two thirds of the labour involved in cocoa farming. They work in the fields, carry water, look after the children and help bring the crops to market and yet they often have fewer rights than men and often earn less than a quarter of the money generated.

That is why the Fairtrade Foundation launched the 'She Deserves a Living Income' campaign last year and is continuing with this theme this year. People do not want poverty and exploitation to be part of the price of their chocolate bars but they are confused by the different 'sustainable' claims and ethical messages around. While 4 million tons of cocoa are produced each year Fairtrade cocoa is only a fraction of this. That is why more people in the UK need to understand the power they have as consumers and choose Fairtrade every time.
Traidcraft & the Fairtrade Mark Celebrate their anniversaries

Traidcraft's logo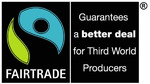 The Fairtrade Mark
November 18th
Fairtrade Celebrations
This year Traidcraft is celebrating 40 years and the Fairtrade Foundation 25 years since they were started. Many people may wonder what exactly both these organisations are so below is a brief explanation.

Traidcraft was established in 1979 as a Christian response to poverty. Its mission is to fight poverty through trade, practising and promoting approaches to trade that help poor people in developing countries transform their lives. Traidcraft is the UK's leading fair trade organisation and is made up of a trading company (Traidcraft plc) and an international development charity (Traidcraft Exchange). It works in over 30 developing countries in Africa, Asia and South America.
Soon after it was founded in 1979 Traidcraft started selling the first Fairtrade coffee, tea and sugar. It has gradually added more products including crafts to its catologue most of them now bearing the FAIRTRADE mark. Last year, due to falling sales, there were fears that it would have to cease trading but their Board was impressed by the number of letters and expressions of support that they received from the public and in the light of this they decided to restructure the business which resulted in a reduction in staff and business but not a complete closure of Traidcraft. The range of goods they sell has been reduced, particularly the crafts, but most of the favourite products that are sold on the Traidcraft stalls, mostly in churches, are still available.
The Fairtrade Foundation was established in 1992 by CAFOD, Christian Aid, Oxfam, Traidcraft, Global Justice Now, and the W.I. The Foundation is the UK member of Fairtrade International which unites over 20 labelling initiatives across Europe, Japan, North America, Mexico and Australia/New Zealand as well as networks of producer organisations from Asia, Africa, Latin America and the Caribbean. It is the independent non-profit organisation that licenses use of the FAIRTRADE Mark on products in the UK in accordance with internationally agreed Fairtrade standards. It helps to grow demand for Fairtrade products and empower producers to sell to traders and retailers, finds new ways of working to support producer organisations and their networks and raises public awareness of the need for Fairtrade and the significant role of Fairtrade in making trade fair.
Celebrating the 25th anniversary since the first few FAIRTRADE Mark certified products were launched by Cafédirect, Clipper tea, Green & Black's and Percol Coffee in 1994, the Fairtrade Foundation thanks the public for fighting for the rights of vulnerable people who are exploited by trade. Thanks to the demands of consumers today there are around 5,000 Fairtrade-certified products on sale in the UK.