Today is the first day of Fairtrade Fortnight (February 22nd to March 6th). Each day Devizes Fairtrade Group is going to post a fact about Fairtrade. We hope you find this interesting and maybe consider some of it when you next go shopping.

DAY ONE

What is Fairtrade: Fairtrade is a simple way to make a difference to the
lives of the people who grow the things we love. This is achieved by
making trade fair. It's about better prices, decent working conditions, local sustainability, and fair terms of trade.

DAY TWO

History: The Fairtrade Foundation was started in the UK in 1992 by
CAFOD, Christian Aid, Oxfam, Traidcraft the World Development Movement and the National Federation of Women's Institutes.


DAY THREE

The Fairtrade Mark: You can tell that a product or its ingredients have been fairly traded by looking for the Fairtrade symbol. It was adopoted in 2002. It looks like this:-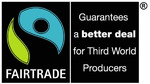 The blue stands for potential and the green for growth. (Or you can see it as a producer waving!)

DAY FOUR

Local Versus Fairtrade: Many people think that by supporting Fairtrade they will be choosing over local farmers and workers but Fairtrade focuses mainly on products such as coffee, tea and bananas that can't be grown in temperate climates.

DAY FIVE
Products: There are now over 6000 different products available in the UK from sugar, tea and coffee to flowers, clothes and jewellery.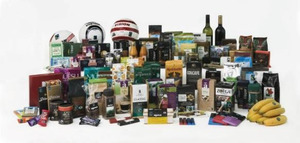 DAY SIX

Tea: An estimated 70,000 cups of tea are drunk every second yet tea


farmers and workers struggle to get a fair deal. One in four children in


Kenya's tea and coffee-growing regions are malnourished and one in 10


children in the tea-growing regions of Malawi die before their fifth


birthday.
DAY SEVEN

Chocolate: Chocolate was the first product to be certified Fairtrade in


the UK. The chocolate market is huge and very profitable. In Britain


alone around £4 billion a year is spent on chocolate yet cocoa farmers


earn on average $1 a day - well below the subsistence level. In other


words they often can't afford food, let alone a bar of chocolate.
DAY EIGHT

Gold: We all love a bit of bling but how often do we stop to think about


where the gold comes from? Gold mines can be hazardous places, with


miners working in structurally insecure pits, without protective gear


and using harmful chemicals such as mercury to recover gold. Fairtrade


Gold is sourced exclusively from mines which meet the Fairtrade Gold


Standard which must adhere to strict requirements on working


conditions, health and safety, handling chemicals, women's rights, child


labour and protection of the environment.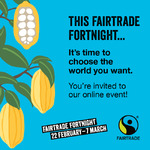 Fairtrade Fortnight
this year runs from February 22nd to March 7th. The theme is '
Climate Fairtrade and You.'
See below this notice for more information about the theme.
The Devizes Fairtrade Group will be running a
Fairtrade Coffee Morning on Zoom
from
10.30 am
on
Saturday 6th March.
A couple of short films about how the changing climate is affecting producers of things like coffee and chocolate and how Fairtrade can help them will be shown and there will be a Fairtrade Quiz and a short discussion.
You are welcome to join in for all or part of the time.
T
o get the link please email patolhurst@btopenworld.com.
For a more detailed programme see the News page on this website.

In Fairtrade Fortnight 2021, the Fairtrade Foundation will highlight the growing challenges that climate change brings to farmers and workers in the communities Fairtrade works with. The facts are straightforward. Farmers and workers in the global south, who have done the least to contribute to climate change, are disproportionately affected. They have told us that:
The Foundation will be hosting a virtual online festival bringing together schools, universities, businesses, supporters, campaigners and farmers from across the world to choose the world they want.

To find out more go to the Foundation's website:-
www.fairtrade.org.uk.