The theme of Fairtrade Fortnight 2016 was Sit down for Breakfast - Stand up for Farmers. Everyone was encouraged to have as many Fairtrade products as possible for breakfast in order to help the farmers in the developing world who produce these products have a better life.

Claire Perry MP opened
the
Fairtrade
& Local Produce Fair in the Corn Exchange on 12 March 2016 and together with Devizes Mayor Roger Giraud-Saunders presented prizes to the winners of the Schools Fairtrade competition.
More than
30 people enjoyed a Fairtrade Breakfast or brunch at the Fair and many more came to browse and buy from the array of Fairtrade and locally produced goods on sale and to listen to the Devizes Town Band playing. There was a friendly atmosphere and everybody seemed to enjoy the day and the opportunity to support local producers as well as those from the developing world.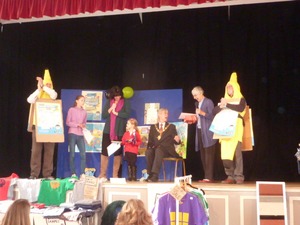 Later on in April another Fairtrade Brunch was held at the Quaker Meeting House. Fairtrade Muesli or Granola, Fairtrade grapes and bananas and banana muffins were available and locally produced bacon and eggs were cooked for those who wanted them. Plenty of Fairtrade coffee and tea were of course available as well.

The breakfast was enjoyed by all who came and many people also bought goods or ordered them from the Traidcraft stall.

The money raised from the sale of tickets for the brunch was split between Traidcraft and the Devizes Fairtrade Group.