Fairtrade Fortnight 2012

The Devizes Fairtrade Group organised 2 events this year:-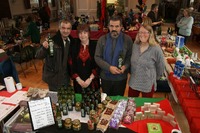 A Fairtrade and Local Produce Fair in the Corn Exchange Devizes on March 3rd.
Many people came to buy Fairtrade and locally produced food and crafts and to watch Peter Vaughan demonstrate how to cook a Palestinian dish using Fairtrade rice and locally produced beef and cabbage. Riziq Abu Nasser a Fairtrade olive farmer from Palestine was there to comment on the dish and then he and Tariq from Zaytoun gave a talk about the problems farmers face in Palestine and how Fairtrade helps them. He said,
"By buying our olive oil, you are saving our lives, the future of our children and you are helping to save our land."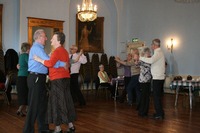 A Fairtrade Tea Dance in the Town Hall on March 9th. Kevin Romang provided the music and several very experienced ballroom dancing couples impressed those who only came to watch with their skill at dancing foxtrots and sequence waltzes. Everyone enjoyed Fairtrade tea and cakes served by some members of Devizes School 6th Form who also helped register everyone who had taken a step for Fairtrade by coming to the dance and also encouraged them to buy raffle tickets for the hamper of Fairtrade goodies kindly donated by Marks & Spencers.