Fairtrade Break at St James Church
There was a lively buzz in the foyer of St James church on the morning of Sunday 12th March when the congregations of the two Sunday services met over Fairtrade coffee, tea or juice, homemade cakes and Fairtrade biscuits. Divine Chocolate and Chocolate and Love donated some samples of their chocolate which were very popular and some of the chocolate was available to buy on the Traidcraft stall. People were also able to find out more about Fairtrade and producers of the products from a display at the back of the church.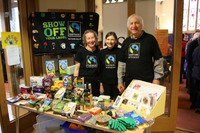 The Traidcraft Stall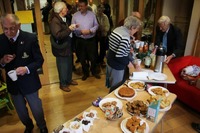 Fairtrade Chocolate samples and cakes
​Kenyan Fairtrade Tea Farmer at Trinity School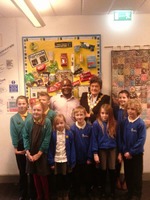 On Friday 3 March Trinity School hosted a very successful and enjoyable workshop for children as part of Devizes' Contribution to Fairtrade Fortnight. Children from four local primary schools took part in the morning event.
The highlight of the morning was the presentation by Patrick Kaberia Muthaura, a tea farmer from Kenya, who was touring the county with support staff from the Fairtrade Foundation. His evident enthusiasm for Fairtrade encouraged the children to think seriously during the discussion session and to record their understanding of the importance of Fairtrade to the farmers and producers.
It is hoped that the work produced by the children will be displayed at a coffee morning at St Andrew's church some time in April.
Other activities in support of Fairtrade Fortnight included assembly talks at local schools, three coffee mornings or Fairtrade Breaks - one at St James church on 12 March another at the Catholic Church on 21 March and one at the Quaker Meeting House on 1 April from 10.30 - 12.00.