Renewal of Fairtrade Town status
August 17th
Devizes Fairtrade Group has successfully renewed the Fairtrade Town status of Devizes. It was first awarded in 2006 and has to be renewed every two years. The Fairtrade Group will continue to work hard to keep reminding people of the importance of buying Fairtrade produce especially at this time when Covid 19 has interfered with the buying and selling of primary products such as chocolate, coffee, tea and sugar as well as craft work. The impact of the virus in the countries that produce these products is very severe as many people do not have water available to wash their hands frequently and the health services are often inadequate to cope with the pandemic.
Ethical Shopping
March 4th
The Devizes Fairtrade Group is joining forces with the Sustainable Devizes Group to help you find out about the impact of our shopping habits on the environment and the livelihoods of the producers and particularly women cocoa farmers in West Africa at an event called Ethical Shopping in the Town Hall on Wednesday 4th March at 7.30 pm. There will be Fairtrade refreshments.and stalls. Entry is free – donations welcome.
Fairtrade Fortnight 2020
February 23rd - March 8th
Fairtrade Fortnight this year is again focusing on cocoa farmers. The theme is 'She Deserves a Living Income'.
It's a scandal that behind the sweet delight of chocolate lies the bitter taste of exploitation. The UK Chocolate industry is worth at least £4 billion a year and yet the average cocoa farmer in Cote d'Ivoir or Ghana, where 60% of the cocoa is grown, earns less than 75p a day. If this wasn't enough to cope with, the climate crisis is wreaking havoc on global food production. Farmers are battling less predictable seasons, more plant diseases and more extreme weather leading to lack of food. They are working longer hours for lower prices. For women it is even more unfair. In Cote d'Ivoir the women carry out two thirds of the labour involved in cocoa farming. They work in the fields, carry water, look after the children and help bring the crops to market and yet they often have fewer rights than men and often earn less than a quarter of the money generated.

That is why the Fairtrade Foundation launched the 'She Deserves a Living Income' campaign last year and is continuing with this theme this year. People do not want poverty and exploitation to be part of the price of their chocolate bars but they are confused by the different 'sustainable' claims and ethical messages around. While 4 million tons of cocoa are produced each year Fairtrade cocoa is only a fraction of this. That is why more people in the UK need to understand the power they have as consumers and choose Fairtrade every time.
Traidcraft & the Fairtrade Mark Celebrate their anniversaries

Traidcraft's logo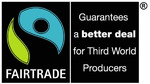 The Fairtrade Mark
November 18th
Fairtrade Celebrations
This year Traidcraft is celebrating 40 years and the Fairtrade Foundation 25 years since they were started. Many people may wonder what exactly both these organisations are so below is a brief explanation.

Traidcraft was established in 1979 as a Christian response to poverty. Its mission is to fight poverty through trade, practising and promoting approaches to trade that help poor people in developing countries transform their lives. Traidcraft is the UK's leading fair trade organisation and is made up of a trading company (Traidcraft plc) and an international development charity (Traidcraft Exchange). It works in over 30 developing countries in Africa, Asia and South America.
Soon after it was founded in 1979 Traidcraft started selling the first Fairtrade coffee, tea and sugar. It has gradually added more products including crafts to its catologue most of them now bearing the FAIRTRADE mark. Last year, due to falling sales, there were fears that it would have to cease trading but their Board was impressed by the number of letters and expressions of support that they received from the public and in the light of this they decided to restructure the business which resulted in a reduction in staff and business but not a complete closure of Traidcraft. The range of goods they sell has been reduced, particularly the crafts, but most of the favourite products that are sold on the Traidcraft stalls, mostly in churches, are still available.
The Fairtrade Foundation was established in 1992 by CAFOD, Christian Aid, Oxfam, Traidcraft, Global Justice Now, and the W.I. The Foundation is the UK member of Fairtrade International which unites over 20 labelling initiatives across Europe, Japan, North America, Mexico and Australia/New Zealand as well as networks of producer organisations from Asia, Africa, Latin America and the Caribbean. It is the independent non-profit organisation that licenses use of the FAIRTRADE Mark on products in the UK in accordance with internationally agreed Fairtrade standards. It helps to grow demand for Fairtrade products and empower producers to sell to traders and retailers, finds new ways of working to support producer organisations and their networks and raises public awareness of the need for Fairtrade and the significant role of Fairtrade in making trade fair.
Celebrating the 25th anniversary since the first few FAIRTRADE Mark certified products were launched by Cafédirect, Clipper tea, Green & Black's and Percol Coffee in 1994, the Fairtrade Foundation thanks the public for fighting for the rights of vulnerable people who are exploited by trade. Thanks to the demands of consumers today there are around 5,000 Fairtrade-certified products on sale in the UK.
Fairtrade Chocolate & Wine Tasting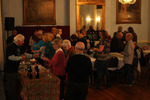 Guests enjoying the Chocolate & Wine Tasting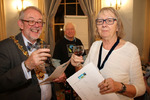 Devizes Mayor and Mayoress tasting Fairtrade wine
February 27th
On Wednesday 27th February over 50 guests enjoyed a Fairtrade Chocolate & Wine Tasting in Devizes Town Hall. As well as tasting the chocolate and wine kindly donated by M&S, Sainsbury's and the Co-op they were able to browse the Traidcraft and Zaytoun stalls, watch a short video about cocoa farmers and also buy tickets for a beautiful hamper of Fairtrade goods and a selection of smaller prizes.
Fairtrade Fortnight 2019

She Deserves a living income

She Deserves Fairtrade
February 25th - March 10th
Fairtrade Fortnight 2019 will focus on cocoa. Farmers of this iconic Fairtrade product have seen prices crash to crisis levels in the last few years, particularly in West Africa where most cocoa is grown. The situation highlights in stark terms the scandal of unfair trade. We have a choice about whether we take a stand against this.
Many farmers – both men and women – are underpaid and exploited. That means they can't earn enough for the basics many of us take for granted, including food, education and housing, because they don't earn a living income.
It's even worse for the women who work in the fields and in the home. Despite the hard work they put in, they're often overlooked and under-represented, and usually see even less of the money for their crop. They deserve more.
Women are central to the cocoa story. Here in the UK, there's a growing movement calling for equal pay and respect for women. Ideas like living incomes, fairness and dignity are already at the heart of the public conversation. Women everywhere deserve respect, dignity, rest, relaxation and appreciation. Fairtrade supports women's empowerment.
Fairtrade Fortnight Events in Devizes

Fairtrade Fortnight 2019
February 25th - March 10th
Fairtrade Wine and Chocolate Tasting Wednesday 27th February 7.30 pm in the Town Hall. Tickets £5 from Antonia Tel: 01380720571 or Devizes Books
Fairtrade Coffee and Cakes Sunday 10th March 10.30 - 11 am at St James Church.
Good News from Traidcraft

Traidcraft's Logo
December 18th
Traidcraft's Board was impressed by the number of letters and expressions of support that Traidcraft has received from the public and in the light of this they have been exploring a new model of business which would result in a reduction in staff and business but not a complete closure of Traidcraft. Sadly this new model does not include buying products from many of the craft producers who have supplied them for many years.
So for the moment everyone can go on buying as much as they can from Traidcraft!
Sad News

Traidcraft Logo
October 15th
Sad News from Traidcraft plc
Many of you have bought Fairtrade goods from Traidcraft stalls or from Oxfam shops over the years and through doing this have helped the producers in the Global South work their way out of poverty. The company, Traidcraft plc, which supplies Fairtrade goods unfortunately may have to cease trading by the end of this year. It pays the producers up front in dollars so when the pound lost value against the dollar, due to uncertainty about Brexit, the company sustained huge losses. It has also, like many companies, seen reduced sales in Britain over the last few years.
This does not mean the end of Fairtrade. There are several companies that sell Fairtrade produce direct to the consumer such as Divine and Cafedirect and of course several supermarkets sell their own brand of Fairtrade coffee, tea, chocolate and wine. However there are many products that are not sold in supermarkets such as rice and pasta, dried fruit and nuts, biscuits, clothes and crafts.
So please buy as much of these as you can before Christmas to support Traidcraft!
Traidcraft Exchange
It is important to stress that the charity arm of Traidcraft plc– Traidcraft Exchange will continue its work as it is separate from the sales side of the company. It is an international development charity which uses the power of trade to bring about lasting solutions to poverty. It runs development programmes in South Asia and Africa, works directly with businesses to improve their supply chains, and does advocacy and campaigning in the UK to promote justice and fairness in international trade. It is hoping to be able to offer support to some of those producers who may be particularly badly affected if Traidcraft plc does have to cease trading.
Who Picked my Tea?
Traidcraft Exchange's current campaign is called 'Who Picked my Tea?' This is focussing on the workers on the tea estates in Assam, Northern India. Some of the tea produced there is sold on Fairtrade terms but the bulk of it is not – most of the Traidcraft tea comes from Africa - and the women who pick the tea have pitifully low wages and deteriorating living conditions. For generations they have picked tea for the British market but instead of being valued they are impoverished. The 'Big Six' tea brands in the UK all buy tea from Assam and they can do much more for the tea workers. Researchers working for Traidcraft Exchange found that on estates that are believed to supply UK companies:
Wages are below Assam and Indian minimum wage levels

Housing is often leaky and in a state of disrepair

Sanitation is minimal or non existent

Local health facilities often lack medicines

Food rations are insufficient and of poor quality
Tea remains one of the most popular drinks in the UK. The 'Big Six' brands – PG Tips, Twinings, Tetley, Yorkshire, Typhoo, and Clipper together have annual sales of £500 million and all use tea grown in Assam as part of some of their blends. They know about the conditions for women working on tea estates but aren't doing enough to change them.
What can we do?
Traidcraft Exchange is asking us to challenge the 'Big Six' by first of all asking them to say which estates they buy their tea from. Transparency like this would shine a light on exploitation and mean that consumers – and more importantly people in Assam – could hold companies to account.
So next time you enjoy a good cup of tea consider asking the big tea brands 'Who picked my tea?'
For more information go to www.traidcraft.org.uk/tea-campaign.
Devizes Fairtrade Town Status Renewed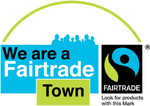 Fairtrade Towns logo
October 9th
Devizes Fairtrade Town status has just been renewed for another 2 years.
The group had to show the Fairtrade Foundation that they were still active in promoting Fairtrade in the town by asking shops and organisations to sell or use Fairtrade products and by having events that reminded people about the importance of Fairtrade for producers in the Global South.

Over the last 2 years since the previous renewal the group has done a lot of work in local schools - taking assemblies or running workshops to introduce children to the idea of Fairtrade. We also had a Fairtrade stall at the Street Festival and Food and Drink Festival and took part in the Carnival Parade in 2017. We held Fairtrade coffee mornings inviting people to 'Come on in to Fairtrade'.

In addition we supported the Fairtrade Foundations campaigns firstly to make people aware of the availability of Fairtrade Gold and secondly to put pressure on Sainsbury's to reverse their decision to stop selling tea with the Fairtrade Mark on and to have their own scheme of Fairly Traded tea which does not give the same advantages to the producers that Fairtrade does.

We will continue to organise activities in 2019 especially around Fairtrade Fortnight next year which runs from 24th February to 10th March with the focus being on the producers of chocolate - so watch out for some chocolatey events!

Fairtrade Film show
March 20th
Come on in to a Fairtrade Film Show at 7.30 pm in the Town Hall, Devizes. As well as some short films about Fairtrade there will be Fairtrade refreshments including wine, a Fairtrade raffle and a chance to buy Fairtrade food and crafts from Traidcraft and Zaytoun stalls. Entry is free - donations welcome.
Fairtrade Coffee Morning
March 3rd
Come on in to a Coffee Morning at the Quaker Meeting House, Bath Road from 10.30 am to 12 noon. As well as Fairtrade refreshments there will be a chance to buy Fairtrade products from a Traidcraft stall.
Fairtrade Fortnight
February 28th - March 11th
COME ON IN. Fairtrade Fortnight 2018 is challenging the British public to open their doors to Fairtrade and help close the door on the exploitation facing people who produce the things we love to eat, drink and wear. The campaign 'Come On In' will invite you to come in to the world of the people who grow our food to see what life can be like when farmers and workers aren't paid fairly. It will explore how businesses, farmers, workers and shoppers come together through Fairtrade to change this.

See below for Fairtrade events in Devizes during the Fortnight.
Fairtrade in the Lantern Parade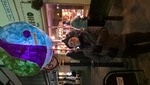 Fairtrade logo on a Lantern in the parade
November 24th
Two members of the Devizes Fairtrade Group took part in the Lantern Parade in Devizes on 24th November proudly carrying the lantern they made representing the Fairtrade Mark.
Sainsbury's Don't Ditch Fairtrade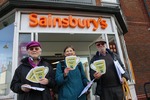 Devizes Fairtrade Group members asking Sainsbury's
October 28th
Devizes Fairtrade Group in the Carnival Procession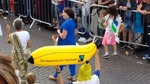 A banana man shows off the Fairtrade banana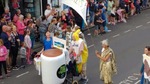 The giant teacup inviting people to Swap their Cup
September 2nd


Members of the Devizes Fairtrade Group were joined by some brownies in a walking entry for the Carnival Procession on Saturday 2nd September. The children's tabards illustrated the range of Fairtrade products available and the giant banana and teacup reminded people of two of the most popular Fairtrade products. In keeping with the Indian theme of the Carnival some ladies in saris carried baskets which instead of containing picked tea had small chocolate bars which the children distributed among the bystanders.
Devizes Fairtrade Group presence at Devizes Street Festival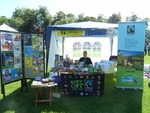 Traidcraft stall at Street Festival on the Green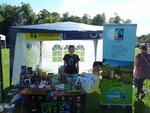 Traidcraft stall on the Green 27.08.17
August 27th
Members of Devizes Fairtrade Group were on the Green on Sunday 27th August with information about Fairtrade, free samples of chocolate and Geobars and Traidcraft products to sel.l
Spring Fair Cancelled - Coffee Morning instead
April 22nd
The Devizes Fairtrade Group regrets to say that the planned Spring Fair on 22 April has had to be cancelled through lack of stallholders.

But keep the date free as St Andrews will be hosting a Fairtrade Coffee Morning on 22 April when there'll be a chance to see the posters produced by the children who attended the workshop with the tea producer, Patrick Kiberia Muthaura, at Trinity School during Fairtrade Fortnight

The Fairtrade Group also plans to be involved with the Devizes Outdoor Celebrity Arts activities - the Street Festival in the summer and the Lantern Parade and market before Christmas. DOCA is aiming to have more Fairtrade, Local and Ethical traders at these events.


Spring Fairtrade Coffee Morning
April 22nd
The Coffee morning is at St Andrew's Church from 10 am to 12 noon. Come and see work by local schools for Fairtrade Fortnight 2017, enjoy Fairtrade drinks and cakes, browse the Traidcraft stall and find out about Shared Interest.
Spring Fairtrade Coffee Morning
April 1st
Don't be a Fool About Fairtrade

On Saturday 1st April at Devizes Quaker Meeting House from 10.30 - 12 noon there'll be a chance to enjoy some Fairtrade coffee or tea, browse the Traidcraft stall and find out more about Fairtrade
Fairtrade Easter Eggs & Bunnies at Lidl
March 29th
Most of the Easter Eggs and Easter Bunnies at Lidl are Fairtrade this year so if you're buying for family or friends do go and have a look in Lidl as they seem to be reasonably priced.

And while you're there you could pick up some Fairtrade Instant Coffee which has recently returned to their shelves.
Fairtrade Tea Farmer's visit to Devizes School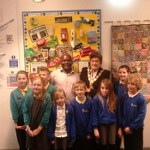 Patrick at Trinity School
March 3rd
On Friday 3 March Trinity School hosted a very successful and enjoyable workshop for children as part of Devizes Contribution to Fairtrade Fortnight. children from four local primary schools took part in the morning event.

The highlight of the morning was the presentation by Patrick Kaberia Muthaura, a tea farmer from Kenya, who is touring the county with support staff from the Fairtrade Foundation. His evident enthusiasm for Fairtrade encouraged the children to think seriously during the discussion session and to record their understanding of the importance of Fairtrade to the farmers amd producers.

Patrick says that Fairtrade has made a huge difference to the lives of tea farmers from the Michimikuru Tea Company, their families and local communities, by enabling them to earn a stable income and the Fairtrade Premium that they have used for school fees and to build new classrooms and maternity wards.

The Company is also implementing programmes to help farmers adapt to climate change that is affecting their crops and is being a threat to their food security.

Other activities in support of Fairtrade Fortnight included assembly talks at local schools, two coffee mornings or Fairtrade Breaks - one at St James church on 12 March from 10.30 - 11.00 and the other at the Quaker Meeting House on 1 April from 10.30 - 12.00.
Fairtrade Fortnight 2017 ITS TIME TO PUT FAIRTRADE IN YOUR BREAK - DON'T FEED EXPLOITATION
February 27th - December 12th

Having the perfect cuppa or a snack is an important part of our daily routine, yet millions of farmers who produce the treats we enjoy during our breaks are struggling to make a living. However hard they work to provide the products we depend on, they still aren't paid what they deserve.

In Kenya's coffee and tea-growing regions one in three people live in poverty, while tea pickers in Malawi earn less than £1.46 a day. This is not enough to provide decent food, education or healthcare for their families or invest in better farming.

Devizes Fairtrade Group will be helping to ensure a fair deal for disadvantaged farming communities by encouraging schools, places of work, churches and catering outlets to hold a Fairtrade Break. Whether it's breakfast time, morning coffee time or afternoon tea time it can become a Fairtrade Break by simply having Fairtrade drinks, cereals, spreads, cakes or biscuits.

There will be a Fairtrade Break at St James' church, Devizes between the two services on Sunday 12th March. Trinity School will be hosting a tea producer and other local schools will be taking part in workshops about Fairtrade.

For more information about the campaign and how to get involved, visit www.fairtrade.org.uk/fortnight or call 01380 720571


Celebration of Devizes 10 years as a Fairtrade Town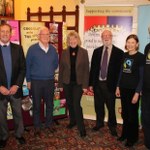 Town Councillors and Fairtrade Group Members
November 17th
Some Town Councillors who were not at the Guardians meeting joined Fairtrade supporters at the Town Hall on Thursday 17 November to celebrate Devizes' 10 Years as a Fairtrade Town.
After a glass of Fairtrade wine or cup of Fairtrade Coffee some films were shown about Fairtrade explaining why it is Sustainable Trade and how buying products such as Fairtrade Footballs, Bananas, Cotton and Gold can improve the lives of the producers dramatically.
A lively discussion followed the films with questions about how Devizes gained Fairtrade status and whether the Fairtrade Mark can be trusted. Members of the Fairtrade Group explained that a town has to show that the Council uses Fairtrade in their venues along with a sufficient number of organisations, schools, churches and businesses and that enough retailers and catering outlets sell or serve Fairtrade products. Also that the International body - the Fairtrade Labelling Organisation rigorously and regularly checks that the products are being bought on Fairtrade terms.
Guests were very generous both in their support of the Traidcraft Stall and in their donations to help the work of the Fairtrade Group
Trinity on the way to becoming a Fairtrade School
March 30th
The Trinity Church of England Primary Academy have been immersing themselves in Fairtrade and working hard to develop a greater understanding of what Fairtrade means. The aim was to achieve the Fairtrade award for being a 'Fairaware' School and they have done just that. This award shows the commitment to using Fairtrade products during meetings as well at family and community events. It is also a recognition of the children's developing understanding of what it means to buy Fairtrade products. They focused on cocoa, bananas, tea and coffee but also found out about a wide range of other Fairtrade products.

This award will last for one year and give the school time to build on everything learnt in readiness to hopefully become a 'Fairactive' School next year during Fairtrade Fortnight.
March 12th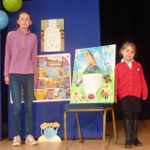 Schools Fairtrade competition winners
The winners of the Schools Fairtrade Competition this year were a group from St Barnabas School, Market Lavington and a student from Pewsey Vale School. They were presented with their prizes by Devizes Mayor Roger Giraud-Saunders and MP Claire Perry at the Fairtrade & Local Produce Fair on Saturday 12 March 2016.
March 12th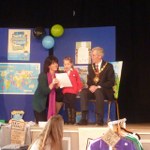 Claire Perry with a St Barnabas School pupil
Claire Perry MP opened the the Fairtrade & Local Produce Fair in the Corn Exchange on 12 March and together with Devizes Mayor Roger Giraud-Saunders presented prizes to the winners of the Schools Fairtrade competition. More than 30 people enjoyed a Fairtrade Breakfast or brunch and many more came to browse and buy from the array of Fairtrade and locally produced goods on sale and to listen to the Devizes Town Band playing. There was a friendly atmosphere and everybody seemed to enjoy the day and the opportunity to support local producers as well as those from the developing world.
Schools Fairtrade Competition
March 1st - March 12th

It's not too late to enter the Schools Fairtrade competition. Devizes Fairtrade Group invites entries of poems, songs, and posters based on the theme of Fairtrade Fortnight 2016 from children and young people in the Devizes area. The theme is 'Sit down for Breakfast Stand up for Farmers.' We would love winning entries to be performed at the Fairtrade and Local Fair to be held at the Corn Exchange on 12 March and there will be a display of entries on the day too. Please get your entries in by the end of the Half term break so that winners can be announced by 1 March.
Fairtrade Fortnight 2016
February 28th - March 13th
For Fairtrade Fortnight 2016 everybody is being asked to 'Wake up to the big Fairtrade Breakfast' and to 'Sit down to breakfast and stand up for farmers'.
You can join the Big Fairtrade Breakfast at home with your family, at work with your colleagues, at school with your class or anywhere you fancy. All you have to do is to consume some Fairtrade products such as tea, coffee, orange juice, muesli, honey, jam, marmalade or cakes or biscuits using Fairtrade ingredients for breakfast or for your coffee break then register your Big Fairtrade Breakfast with the Fairtrade Foundation at www.fairtrade.org.uk/breakfast.

You can also register your Fairtrade Breakfast at the Fairtrade & Local Produce Fair on Saturday 12 March in the Corn Exchange, Devizes from 10 am to 2 pm. Or come and have your Fairtrade Breakfast with us and browse the stalls selling Fairtrade or locally produced food and crafts or bring a stall and sell your products. For more information contact 01380720571

January 15th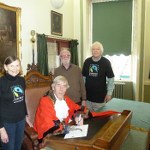 Devizes Mayor signing Fairtrade Towns Resolution
Devizes Mayor Roger Giraud-Saunders signed the International Fairtrade Towns Conference Bristol Resolution in January 2016. The resolution stresses the need for communities around the world to embrace sustainable ways of living. The Town Council reaffirmed its commitment to use Fairtrade products in their venues and to encourage their use around the town.

The resolution highlights the belief that international trade rules should be reformed to benefit poor farmers and workers in developing countries. It also acknowledges that climate change is a major challenge to farmers and workers whose livelihoods are affected.
Show Your Hand - Make Trade Fair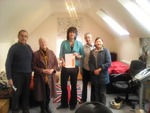 Devizes Fairtrade Group members with Claire Perry
November 27th
Claire Perry MP listened with interest to four members of the Devizes Fairtrade Group when they visited her surgery in Aldbourne in November and told her about the Fairtrade Foundation's Show Your Hand - Make Trade Fair campaign. They focused on the plight of sugar farmers from African, Caribbean and Pacific countries as changes to the Common Agricultural Policy will cause them to lose out to subsidised European sugar beet producers. The EU encouraged sugar cane production by vulnerable smallholder farmers over the last decade but viable market access for them is now being lost. A fund has been set up by the European Commission to help the farmers adapt to the situation but the Fairtrade Foundation believes that help has not yet been reaching them.

Claire Perry wrote to the Minister of State at the Department for Envirionment Food and Rural Affairs and received a letter of which she sent a copy to the members of the Devizes Fairtrade Group. Unfortunately the letter merely reiterated that a fund had been set up to help the ACP countries adapt and that he welcomed the measures which had been put in place.
Show Your Hand - Make Trade Fair
September 30th - December 31st
The Fairtrade Foundation's campaign is a call to the government to consider the concerns of farmers and workers across the developing world. David Cameron has made commitments to sustainability and international development but at the same time his government supports British and EU trade and business policies that threaten the lives of thousands of vulnerable farmers and workers in some of the world's poorest countries. This includes many Fairtrade producers, for example the sugar cane farmers affected by the change to EU trade rules.

Devizes Fairtrade Group has written to our MP Claire Perry asking for a meeting to discuss this problem.
Fairtrade & Local Produce Fair
April 11th
There'll be lots of fun to be had at the Fairtrade & Local Produce Fair on Saturday 11 April 2015 in the Corn Exchange, Devizes from 10.00 - 14.00. Stalls selling food and crafts; African Drumming; Cookery demos; Devizes Town Band; Exhibition of Schools Art Competition entries and prizegiving; short film about Fairtrade producers; craft activities using junk materials for children; Fairtrade refreshments and bacon butties.
All this for FREE!
Fairtrade Fortnight 2015
February 23rd - March 8th
The theme of Fairtrade Fortnight 2015 (23 February to 8 March) is Choose Products that Change Lives. The focus will be on the producers of 3 main commodities - cocoa, sugar and tea. Devizes Fairtrade Group is organising a Fairtrade Tea Dance on Sunday 1st March at Devizes Town Hall from 3.30 - 6.15 pm. with music provided by Kevin Romang, Fairtrade tea and cakes and a short film about a Fairtrade tea producer showing how buying Fairtrade can make all the difference will be screened. Tickets for the Tea Dance (£6) will be on sale at Devizes Books or contact Bridget - 01380 720565 or Antonia - 01380 720571 There will be another opportunity to see the film at the annual Fairtrade & Local Produce Fair in the Corn Exchange on Saturday 11 April from 10 am to 2 pm.
Schools Fairtrade Competition
January 23rd
Entries are invited for this year's Art Competition for Schools in the Devizes Area.

Fairtrade Fortnight in 2015 (23 February – 8 March) will focus on producers and the impact Fairtrade has on their lives so Devizes Fairtrade Group invites entries of artworks based on this theme from children and young people in the Devizes area.

The entries can include pictures, posters, collages, or models showing the benefits of Fairtrade to the families of producers.

Prizes will be awarded in the following categories: –
Primary 1 – 3
Primary 4 – 6
Secondary 7 - 10
Secondary 11 & Sixth Form
Entries can be from individuals or groups of pupils. Posters should be between A3 and A1 in size.
The winning designs will be announced before the end of the school term in March 2015 and all the entries will be exhibited at the Fairtrade & Local Produce Fair in the Corn Exchange on 11 April 2014.
The closing date for entries is Friday 20 March 2015.
Entries should be sent to:
Antonia Tolhurst
1 Greenfield Road
Devizes
SN10 5BP
Please include the name(s) and year group (e.g. P3, S2) of the entrants, along with the name and contact details of the school or other group on the back of each entry.
For further information please contact
jackythomas@phonecoop.coop
or phone 01380 860181
Information about Fairtrade and Fairtrade products can be found at: http://www.fairtrade.org.uk.
Information about Fairtrade Fortnight can be found at http://www.fairtrade.org.uk/fortnight
For details about becoming a Fairtrade School go to http://schools.fairtrade.org.uk
Report on the Fairtrade & Local Produce Fair and photo in the Gazette
April 28th
http://www.gazetteandherald.co.uk/news/towns/devizesheadlines/11155797.Devizes_goes_bananas_for_Fairtrade/?ref=erec
April 28th
See Fairtrade Fortnight 2014 for details about the Fair on 12th April and a list of winners of the Fairtrade Art Competition
Report on concert & photos in Gazette & Herald
March 5th
http://www.gazetteandherald.co.uk/news/towns/devizesheadlines/11071955.Songs_inspire_Fairtrade_backers_in_Devizes/?ref=erec
Fairtrade Fortnight 2014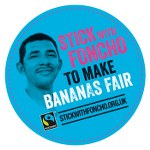 Fairtrade Fortnight 2014 Logo
November 28th
The theme of Fairtrade Fortnight 2014 (24th February - 9th March) will be 'Make Bananas Fair'. For more information about this slogan go to www.stickwithfoncho.org.uk. Foncho is a banana farmer.

During Fairtrade Fortnight the Devizes Fairtrade Group be asking people to sign a petition calling on the Secretary of State for business to investigate the grave impact of unsustainable supermarket pricing of bananas and act to protect the millions of poor farmers and workers who grow the UK's favourite fruit.

We will also be running a Fairtrade Art Competition on the theme Make Bananas Fair. Entries are invited from school children and adults. See below for details.

There will be a Fairtrade Concert in the Town Hall on Wednesday 5th March at 7.30pm.
Singer-songwriter Gareth Davies-Jones will be performing.
The Bear Hotel supports Fairtrade
May 18th
At the Devizes Food and Drink Festival Fair on May 18th the Bear Hotel had a stall selling Fairtrade tea and coffee. The manager of the Bear confirmed that as far as possible the hotel now serves Fairtrade hot drinks and uses Fairtrade sugar.
Devizes Mayor signs Declaration calling for fairer trading to be included in UN development goals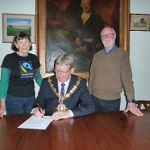 Mayor Kelvin Nash signing declaration
May 11th
Saturday May 11th was World Fairtrade Day, a fitting day for Devizes Mayor Kelvin Nash to sign a declaration calling for Fairtrade to be included in the United Nations development goals after 2015. World leaders will gather for the United Nations General Assembly Meeting in New York in September to decide on a new global development framework to replace the 2015 Millennium Development goals. This framework will aim to create a just, equitable and sustainable world; to reform trade rules to overcome inequalities and empower small producers and workers in developing countries to trade their way out of poverty; and to support partnerships for development between governments, local authorities, businesses and citizens such as Fair Trade which ensure market access for disadvantaged producers.

Record sales at Lions May Fair
May 6th
The Traidcraft stall at the Lions May Fair on May 6th sold
Fairtrade and Climate Change Presentation
March 27th
Rowena Quantrill from Bradford on Avon Fairtrade Group and Climate Friendly Bradford on Avon will give a presentation about the way in which Fairtrade and climate change are linked at the Quaker Meeting House in Devizes on Wednesday 27th March 7pm for Fairrade refreshments 7.30pm start. This is organised by Sustainable Devizes Network.
Fairtrade Fortnight 2013 Events

Fairtrade events sponsored by the Co-operative
March 24th
Fairtrade Fortnight 2013 had the theme Going Further for Fairtrade.

The Devizes Fairtrade Group will be held a reception in the Town Hall, Devizes with a discussion on the topic, 'Do we need to choose between Fairtrade and Local?' Panelists included the Director of Product Integrity from the Fairtrade Foundation and a local farmer. It was chaired by Matthew Smith from BBC Wiltshire.

On Saturday March 9th there was a Fairtrade and Local Produce Fair in the Corn Exchange in Devizes. The Fair was opened by Claire Perry MP. There were stalls selling Fairtrade and locally produced food, crafts and clothes. The Devizes Town Band played and children's activities were provided by Wiltshire Scrapstore. Marks and Spencers donated a Fairtrade hamper which was raffled.

The winner of the Fairtrade Sculpture competition, Hannah Gray, was presented with her prize by Mayor Kelvin Nash. The second and third prizes were won by pupils from Nursteed Community Primary School. The Fairtrade prizes were donated by Sainsburys

These events were once again sponsored by the Co-operative Group.

See Fairtrade Fortnight 2013 for more details
(http://devizesfairtrade.org.uk/fairtrade-fortnight/2013)
Award for Best Fairtrade Accomodation in Devizes
March 8th
Rosemundy Cottage bed and breakfast in Devizes won a Bronze Award for best Fairtrade Accommodation in the South West Fairtrade Business Awards this year.
South West Fairtrade Day
September 22nd
South West Fairtrade Day, 22nd September, Exeter Community Centre
A great opportunity to learn more about Fairtrade, how it links with sustainability, and why it is increasingly important in our globalised world. This free event includes a talk by Prof Tim Gollinge, expert in social change and Transition Towns, as well as talks and workshops by Fairtrade Foundation staff and others, with plenty of ideas and links with Fairtrade producers. Includes a delicious free lunch!
http://www.fairtradesouthwest.org.uk/events.asp

July 19th
6.30 to 9.30pm - Traidcraft stall at Devizes School's "Pamper Evening"
July 14th
10am to 4pm - Traidcraft stall at Devizes Food and Drink Festival Fair
Traidcraft Stall with Fairtrade information in the Market Place
June 29th
On Friday June 29th there will be a Free Market in the Market Place in Devizes from 9am - 5pm. The Devizes Fairtrade Group will be having a stall selling Traidcraft food and crafts and displaying information about Fairtrade.
Devizes Fairtrade Group scoops national award for campaigning excellence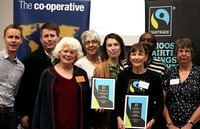 Fairtrade Conference Award
October 15th
Devizes Fairtrade Group was presented with an award by Fairtrade Foundation Executive Director Harriet Lamb CBE, at the national Fairtrade Supporter Conference at Aston University on 15 October 2011.
The Fairtrade Fortnight Awards, sponsored by the Co-operative Group, recognise the achievements and creativity of Fairtrade campaigners and supporters during the annual two-week Fairtrade Fortnight campaign.
Devizes Fairtrade Group was runner up for the best media campaign and scooped