Zoom Fairtrade Coffee Morning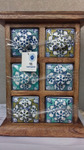 Fairtrade Mini Chest of Drawers
December 4th
Since it has not been possible to have any events to remind people about buying Fairtrade products since March, due to the pandemic, the Devizes Fairtrade Group decided to hold a Virtual Fairtrade Coffee Morning on Zoom on Friday 4th of December.
The event began with showing a recording sent by the Fairtrade Foundation of a virtual event - Fairtrade Presents: 'The Women Behind Your Coffee'.
After a short discussion we then moved on to talking about Fairtrade products that we like or had seen in the Traidcraft catalogue - a photo of one of these - a mini chest of drawers is above.
While engaged in the Zoom discussions we were drinking Fairtrade coffee or tea and eating some cakes or biscuits that we had made using Fairtrade ingredients. These were Fairtrade Peanut Butter Cookies, Fairtrade Mango Squares and Fairtrade Courgette Cake. These were sent by email to the participants who wanted them after the event.
As a result of the discussion around Fairtrade products we like, some people were able to give orders to two members of the group who supply Fairtrade products marketed by Traidcraft.
We plan to have a similar event to mark Fairtrade Fortnight which starts at the end of February.

Here is the Fairtrade Peanut Butter Cookie recipe:-

Fairtrade Peanut Butter Cookies
85g butter
200g Fairtrade sugar (available in Sainsbury's, M&S or the Co-op)
1/2 tsp salt
340g Fairtrade peanut butter (available from Traidcraft)
1 large egg
2 tsp vanilla extract
160g plain flour
1/2tsp bicarbonate of soda
Mix all ingredients together. Roll into balls about the size of large marbles. Place on a baking tray and press lightly with a fork. Cook 8-10 minutes at 180 degrees C.
Renewal of Fairtrade Town status
August 17th
Devizes Fairtrade Group has successfully renewed the Fairtrade Town status of Devizes. It was first awarded in 2006 and has to be renewed every two years. The Fairtrade Group will continue to work hard to keep reminding people of the importance of buying Fairtrade produce especially at this time when Covid 19 has interfered with the buying and selling of primary products such as chocolate, coffee, tea and sugar as well as craft work. The impact of the virus in the countries that produce these products is very severe as many people do not have water available to wash their hands frequently and the health services are often inadequate to cope with the pandemic.
Ethical Shopping
March 4th
The Devizes Fairtrade Group is joining forces with the Sustainable Devizes Group to help you find out about the impact of our shopping habits on the environment and the livelihoods of the producers and particularly women cocoa farmers in West Africa at an event called Ethical Shopping in the Town Hall on Wednesday 4th March at 7.30 pm. There will be Fairtrade refreshments.and stalls. Entry is free – donations welcome.
Fairtrade Fortnight 2020
February 23rd - March 8th
Fairtrade Fortnight this year is again focusing on cocoa farmers. The theme is 'She Deserves a Living Income'.
It's a scandal that behind the sweet delight of chocolate lies the bitter taste of exploitation. The UK Chocolate industry is worth at least £4 billion a year and yet the average cocoa farmer in Cote d'Ivoir or Ghana, where 60% of the cocoa is grown, earns less than 75p a day. If this wasn't enough to cope with, the climate crisis is wreaking havoc on global food production. Farmers are battling less predictable seasons, more plant diseases and more extreme weather leading to lack of food. They are working longer hours for lower prices. For women it is even more unfair. In Cote d'Ivoir the women carry out two thirds of the labour involved in cocoa farming. They work in the fields, carry water, look after the children and help bring the crops to market and yet they often have fewer rights than men and often earn less than a quarter of the money generated.

That is why the Fairtrade Foundation launched the 'She Deserves a Living Income' campaign last year and is continuing with this theme this year. People do not want poverty and exploitation to be part of the price of their chocolate bars but they are confused by the different 'sustainable' claims and ethical messages around. While 4 million tons of cocoa are produced each year Fairtrade cocoa is only a fraction of this. That is why more people in the UK need to understand the power they have as consumers and choose Fairtrade every time.