Fairtrade Film show
March 20th
Come on in to a Fairtrade Film Show at 7.30 pm in the Town Hall, Devizes. As well as some short films about Fairtrade there will be Fairtrade refreshments including wine, a Fairtrade raffle and a chance to buy Fairtrade food and crafts from Traidcraft and Zaytoun stalls. Entry is free - donations welcome.
Fairtrade Coffee Morning
March 3rd
Come on in to a Coffee Morning at the Quaker Meeting House, Bath Road from 10.30 am to 12 noon. As well as Fairtrade refreshments there will be a chance to buy Fairtrade products from a Traidcraft stall.
Fairtrade Fortnight
February 28th - March 11th
COME ON IN. Fairtrade Fortnight 2018 is challenging the British public to open their doors to Fairtrade and help close the door on the exploitation facing people who produce the things we love to eat, drink and wear. The campaign 'Come On In' will invite you to come in to the world of the people who grow our food to see what life can be like when farmers and workers aren't paid fairly. It will explore how businesses, farmers, workers and shoppers come together through Fairtrade to change this.

See below for Fairtrade events in Devizes during the Fortnight.
Fairtrade in the Lantern Parade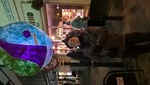 Fairtrade logo on a Lantern in the parade
November 24th
Two members of the Devizes Fairtrade Group took part in the Lantern Parade in Devizes on 24th November proudly carrying the lantern they made representing the Fairtrade Mark.
Sainsbury's Don't Ditch Fairtrade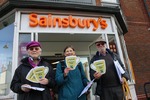 Devizes Fairtrade Group members asking Sainsbury's
October 28th