Tell Sainsbury's 'Don't Ditch Fairtrade'
October 28th
Come and join us in telling Sainsbury's 'Don't Ditch Fairtrade' on Saturday 28th October . We'll be outside Sainsbury's Devizes from 10.30 am to 12.30 or 1 pm holding paper mugs, giving out leaflets and asking people to sign a letter to Sainsbury's.
For more information about the campaign got www.don'tditchfairtrade.
Devizes Fairtrade Group in the Carnival Procession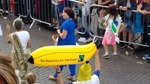 A banana man shows off the Fairtrade banana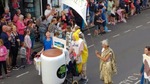 The giant teacup inviting people to Swap their Cup
September 2nd


Members of the Devizes Fairtrade Group were joined by some brownies in a walking entry for the Carnival Procession on Saturday 2nd September. The children's tabards illustrated the range of Fairtrade products available and the giant banana and teacup reminded people of two of the most popular Fairtrade products. In keeping with the Indian theme of the Carnival some ladies in saris carried baskets which instead of containing picked tea had small chocolate bars which the children distributed among the bystanders.
Devizes Fairtrade Group presence at Devizes Street Festival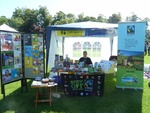 Traidcraft stall at Street Festival on the Green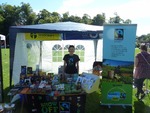 Traidcraft stall on the Green 27.08.17
August 27th
Members of Devizes Fairtrade Group were on the Green on Sunday 27th August with information about Fairtrade, free samples of chocolate and Geobars and Traidcraft products to sel.l
Spring Fair Cancelled - Coffee Morning instead
April 22nd
The Devizes Fairtrade Group regrets to say that the planned Spring Fair on 22 April has had to be cancelled through lack of stallholders.

But keep the date free as St Andrews will be hosting a Fairtrade Coffee Morning on 22 April when there'll be a chance to see the posters produced by the children who attended the workshop with the tea producer, Patrick Kiberia Muthaura, at Trinity School during Fairtrade Fortnight

The Fairtrade Group also plans to be involved with the Devizes Outdoor Celebrity Arts activities - the Street Festival in the summer and the Lantern Parade and market before Christmas. DOCA is aiming to have more Fairtrade, Local and Ethical traders at these events.


Spring Fairtrade Coffee Morning
April 22nd
The Coffee morning is at St Andrew's Church from 10 am to 12 noon. Come and see work by local schools for Fairtrade Fortnight 2017, enjoy Fairtrade drinks and cakes, browse the Traidcraft stall and find out about Shared Interest.