Spring Fair Cancelled
April 22nd
The Devizes Fairtrade Group regrets to say that the planned Spring Fair on 22 April has had to be cancelled through lack of stallholders.

Instead the Group plans to be involved with the Devizes Outdoor Celebrity Arts activities - the Street Festival in the summer and the Lantern Parade and market before Christmas. DOCA is aiming to have more Fairtrade, Local and Ethical traders at these events.
Fairtrade Tea Farmer's visit to Devizes School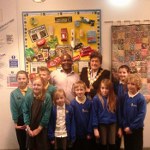 Patrick at Trinity School
March 3rd
On Friday 3 March Trinity School hosted a very successful and enjoyable workshop for children as part of Devizes Contribution to Fairtrade Fortnight. children from four local primary schools took part in the morning event.

The highlight of the morning was the presentation by Patrick Kaberia Muthaura, a tea farmer from Kenya, who is touring the county with support staff from the Fairtrade Foundation. His evident enthusiasm for Fairtrade encouraged the children to think seriously during the discussion session and to record their understanding of the importance of Fairtrade to the farmers amd producers.

Patrick says that Fairtrade has made a huge difference to the lives of tea farmers from the Michimikuru Tea Company, their families and local communities, by enabling them to earn a stable income and the Fairtrade Premium that they have used for school fees and to build new classrooms and maternity wards.

The Company is also implementing programmes to help farmers adapt to climate change that is affecting their crops and is being a threat to their food security.

Other activities in support of Fairtrade Fortnight included assembly talks at local schools, two coffee mornings or Fairtrade Breaks - one at St James church on 12 March from 10.30 - 11.00 and the other at the Quaker Meeting House on 1 April from 10.30 - 12.00.
Fairtrade Fortnight 2017 ITS TIME TO PUT FAIRTRADE IN YOUR BREAK - DON'T FEED EXPLOITATION
February 27th - December 12th

Having the perfect cuppa or a snack is an important part of our daily routine, yet millions of farmers who produce the treats we enjoy during our breaks are struggling to make a living. However hard they work to provide the products we depend on, they still aren't paid what they deserve.

In Kenya's coffee and tea-growing regions one in three people live in poverty, while tea pickers in Malawi earn less than £1.46 a day. This is not enough to provide decent food, education or healthcare for their families or invest in better farming.

Devizes Fairtrade Group will be helping to ensure a fair deal for disadvantaged farming communities by encouraging schools, places of work, churches and catering outlets to hold a Fairtrade Break. Whether it's breakfast time, morning coffee time or afternoon tea time it can become a Fairtrade Break by simply having Fairtrade drinks, cereals, spreads, cakes or biscuits.

There will be a Fairtrade Break at St James' church, Devizes between the two services on Sunday 12th March. Trinity School will be hosting a tea producer and other local schools will be taking part in workshops about Fairtrade.

For more information about the campaign and how to get involved, visit www.fairtrade.org.uk/fortnight or call 01380 720571


Celebration of Devizes 10 years as a Fairtrade Town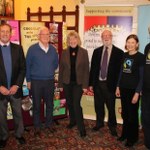 Town Councillors and Fairtrade Group Members
November 17th
Some Town Councillors who were not at the Guardians meeting joined Fairtrade supporters at the Town Hall on Thursday 17 November to celebrate Devizes' 10 Years as a Fairtrade Town.
After a glass of Fairtrade wine or cup of Fairtrade Coffee some films were shown about Fairtrade explaining why it is Sustainable Trade and how buying products such as Fairtrade Footballs, Bananas, Cotton and Gold can improve the lives of the producers dramatically.
A lively discussion followed the films with questions about how Devizes gained Fairtrade status and whether the Fairtrade Mark can be trusted. Members of the Fairtrade Group explained that a town has to show that the Council uses Fairtrade in their venues along with a sufficient number of organisations, schools, churches and businesses and that enough retailers and catering outlets sell or serve Fairtrade products. Also that the International body - the Fairtrade Labelling Organisation rigorously and regularly checks that the products are being bought on Fairtrade terms.
Guests were very generous both in their support of the Traidcraft Stall and in their donations to help the work of the Fairtrade Group
Trinity on the way to becoming a Fairtrade School
March 30th
The Trinity Church of England Primary Academy have been immersing themselves in Fairtrade and working hard to develop a greater understanding of what Fairtrade means. The aim was to achieve the Fairtrade award for being a 'Fairaware' School and they have done just that. This award shows the commitment to using Fairtrade products during meetings as well at family and community events. It is also a recognition of the children's developing understanding of what it means to buy Fairtrade products. They focused on cocoa, bananas, tea and coffee but also found out about a wide range of other Fairtrade products.

This award will last for one year and give the school time to build on everything learnt in readiness to hopefully become a 'Fairactive' School next year during Fairtrade Fortnight.