Spring Fair Cancelled - Coffee Morning instead
April 22nd
The Devizes Fairtrade Group regrets to say that the planned Spring Fair on 22 April has had to be cancelled through lack of stallholders.

But keep the date free as St Andrews will be hosting a Fairtrade Coffee Morning on 22 April when there'll be a chance to see the posters produced by the children who attended the workshop with the tea producer, Patrick Kiberia Muthaura, at Trinity School during Fairtrade Fortnight

The Fairtrade Group also plans to be involved with the Devizes Outdoor Celebrity Arts activities - the Street Festival in the summer and the Lantern Parade and market before Christmas. DOCA is aiming to have more Fairtrade, Local and Ethical traders at these events.


Spring Fairtrade Coffee Morning
April 22nd
The Coffee morning is at St Andrew's Church from 10 am to 12 noon. Come and see work by local schools for Fairtrade Fortnight 2017, enjoy Fairtrade drinks and cakes, browse the Traidcraft stall and find out about Shared Interest.
Spring Fairtrade Coffee Morning
April 1st
Don't be a Fool About Fairtrade

On Saturday 1st April at Devizes Quaker Meeting House from 10.30 - 12 noon there'll be a chance to enjoy some Fairtrade coffee or tea, browse the Traidcraft stall and find out more about Fairtrade
Fairtrade Easter Eggs & Bunnies at Lidl
March 29th
Most of the Easter Eggs and Easter Bunnies at Lidl are Fairtrade this year so if you're buying for family or friends do go and have a look in Lidl as they seem to be reasonably priced.

And while you're there you could pick up some Fairtrade Instant Coffee which has recently returned to their shelves.
Fairtrade Tea Farmer's visit to Devizes School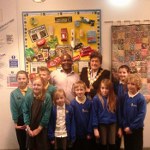 Patrick at Trinity School
March 3rd
On Friday 3 March Trinity School hosted a very successful and enjoyable workshop for children as part of Devizes Contribution to Fairtrade Fortnight. children from four local primary schools took part in the morning event.

The highlight of the morning was the presentation by Patrick Kaberia Muthaura, a tea farmer from Kenya, who is touring the county with support staff from the Fairtrade Foundation. His evident enthusiasm for Fairtrade encouraged the children to think seriously during the discussion session and to record their understanding of the importance of Fairtrade to the farmers amd producers.

Patrick says that Fairtrade has made a huge difference to the lives of tea farmers from the Michimikuru Tea Company, their families and local communities, by enabling them to earn a stable income and the Fairtrade Premium that they have used for school fees and to build new classrooms and maternity wards.

The Company is also implementing programmes to help farmers adapt to climate change that is affecting their crops and is being a threat to their food security.

Other activities in support of Fairtrade Fortnight included assembly talks at local schools, two coffee mornings or Fairtrade Breaks - one at St James church on 12 March from 10.30 - 11.00 and the other at the Quaker Meeting House on 1 April from 10.30 - 12.00.